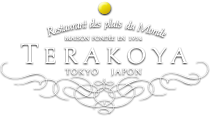 Nom de l'entreprise

TERAKOYA (Société par actions)
Président directeur général

Mitsuo Hazama

Fondation
1 avril 1954

siège social
3-33 -32 Maehara-Cho KOGANEI-Shi, Tokyo
℡042-381-1101(standard)
FAX.042-384-0747 Site Internet TERAKOYA


Succursales





Kichijoji : Brasserie Edible. Musashino Kichijoji Hon-Cho 1-8-21
℡0422-23-3903 Site internet Brasserie Edible

Tachikawa: Brasserie Amicale. Tachikawa-Shi Shibasaki-Cho 2-3-13
℡042-512-7868 Site internet Brasserie Amicale
Nombre d'employés
55 Personnes(Comprenant les CDD)
Capital
10,000,000Yen
autorisations d'exercice professionnel

Licence de restauration, Licence de fabrication de produits à base de viande, Licence d'entreprise de Confiserie (Pâtisserie, boulangerie), Licence de fabrication de produits alimentaires préparés, Licence de fabrication de crème glacée, Autorisation de découpe du Fugu (poisson), Licence de vente d'alcool, Licence de vente de tabac.

Banques Principales
The Bank of Tokyo-Mitsubishi UFJ (Koganei branch), The Tama Shinkin Bank (Kita Fuchu branch), Sumitomo Mitsui Banking Corporation (Koganei branch), etc.
Principales destinations de livraison

Isetan Mitsukoshi Holdings Co., Ltd., TOKYU DEPARTMENT STORE CO.,LTD, Takashimaya Co, Ltd, MARUI GROUP Co., Ltd., Sogo & Seibu Co.,Ltd, RINGBELL Co.,Ltd, Harmonick Co., Ltd, JALUX Inc.
Principaux fournisseurs


NIPPON LIQUOR LTD,

MHD Moët Hennessy Diageo K.K., JALUX Inc.,

Nippon

Ham group.,

Wataru & Co., Ltd.,

SANKOH

.

,

Sumida Traiding, TATSUMI, KOINUMA Co., Ltd.,

Takanashi milk products Co.,Ltd.,

KEY COFFEE INC.,

LEAFULL Co.,Ltd. et autres

Associations dont TERAKOYA est membre


Membre de la

Japan Restaurant Association




Membre des Toques Blanches Japon


Membre de L'Association des Disciples d'Auguste Escoffier du Japon.
Membre du French Food Culture Center
Membre de Japan Charcuterie Association
Membre de L'Association pour le Cigare Japon
Ambassadeur pour Champagne-KRUG 


Ambassadeur pour

Champagne-Ruinart
Membre de Corporation Association of Musashino


Membre de la chambre de commerce de Tokyo, branche de Koganei city.





オリーブサンドの専用オンラインショップをオープンいたしました。
ぜひ、ご覧になってください。